The continuous need for security and the adoption of adequate security measures is today a must for companies operating in global markets, particularly in countries where the protection of assets and employees becomes a priority issue. NGS has developed this solution to respond to the security needs of vehicle fleets and employees through a Security Tracking System.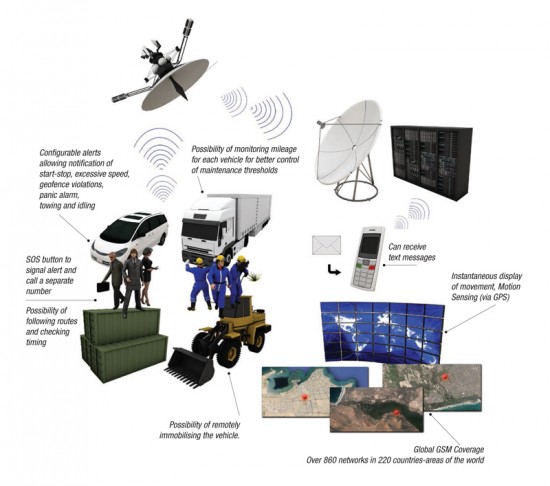 Vehicles
Possibility of configuring a geofence with alarm reporting when violated;
route planning tool allowing the Client to define the most cost effective routes;
configurable alerts allowing notification of start-stop, excessive speed, geofence violations, panic alarm, towing and idling;
possibility of monitoring mileage for each vehicle for better control of maintenance thresholds;
possibility of monitoring-controlling 3 inputs and 3 outputs (door opening, fuel tank opening, panic alarm, sub-systems monitoring etc.);
possibility of remotely immobilising the vehicle.
People
Global GSM Coverage – Over 860 networks in 220 countries-areas of the world;
instantaneous display of movement, Motion sensing (via GPS);
possibility of following routes and checking timing;
possibility of configuring Geofences with alarm reporting when violated;
can receive text messages;
SOS button to signal alert and call a separate number;
options to disable power button in relation to privacy policy.